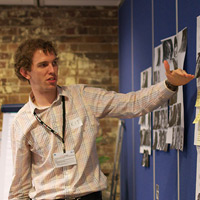 Hi, I'm Kit Grose, a UX designer & consultant with visual design + development chops from Wollongong, Australia.
I'm currently UX + Tech Director at Studio IQ, where I specialise in large-format touch software and hardware. I've got more than 13 years' professional experience designing and building highly usable systems.
I do software design & development, web design & development, industrial design & development, print design, and a whole lot of user testing. I'm also the Local Leader for the fledgling IxDA Wollongong.
You can find me and my writing on Twitter, LinkedIn, and UX Stack Exchange.